Certa Partners with Resistant AI to Automate Document Verification at Scale
---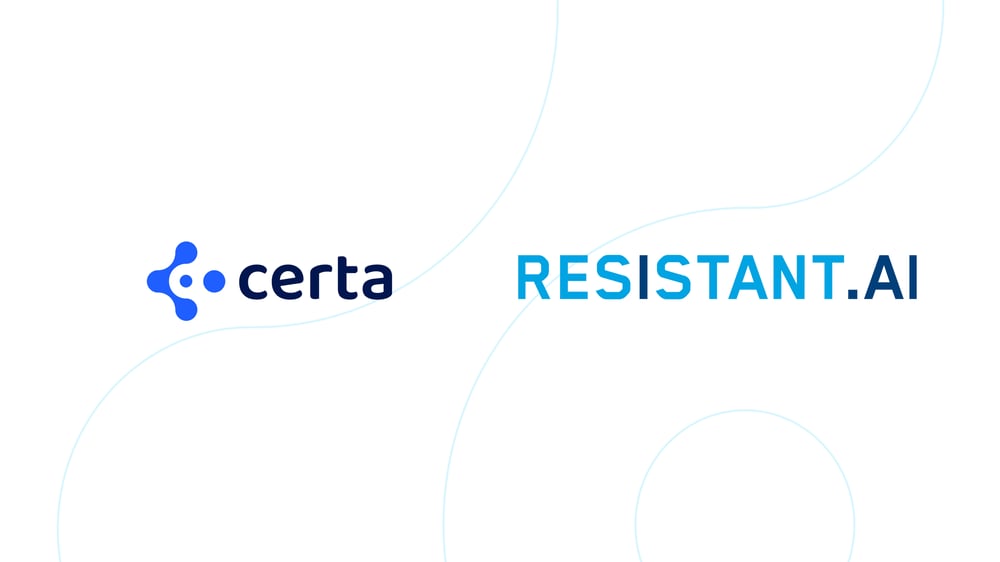 Partnership speeds vendor and customer onboarding process while detecting and preventing fraud
San Francisco – June 22, 2023 – The leading third-party risk management platform, Certa, today announced its official partnership with Resistant AI, the AI and machine learning financial crime prevention specialists. With this partnership, Resistant AI's Document Forensics, which stops bad actors by identifying document fraud invisible to the human eye, is fully integrated in Certa's workflow automation platform.
Certa users now have the option to access Resistant AI's Document Forensics directly within Certa to better automate customer and vendor approvals and rejections during the onboarding process. With AI-powered document fraud detection, customers can reduce time spent on manual documentation review, detect and prevent serial fraud attempts, and approve more customers and suppliers.
"We are always looking for partnership opportunities that help speed the onboarding of customers, suppliers, sellers, and partners, while making it safer and more efficient for all parties involved," said Jag Lamba, CEO of Certa. "Our partnership with Resistant AI is just another way to demonstrate that commitment to our customers, so they are confident that their onboarding process is both as simple as possible and protected from fraud."
"Onboarding processes are a crucial component of any business's overall success, but it remains a time-consuming and costly aspect of doing business," said Martin Rehak, CEO of Resistant AI. "With Resistant AI's Document Forensics available directly in Certa's leading third-party risk management platform, organizations will be able to identify modified documents almost instantly as a first step in the document automation workflow, enabling faster, more accurate business decisions, increasing organizational efficiencies, and helping prevent losses."
To learn more about Certa, visit https://www.getcerta.com/.